Short-Term Furnished Apartments in Houston
If you're looking for corporate apartments in Houston, there's no reason to commit to a long-term lease. We have many short-term apartments in Houston available throughout the year, and our team is committed to helping you find the perfect lease for your needs. Our month to month rentals offer true convenience and flexibility, making finding your ideal housing one less thing to worry about!
Available Apartment Types
We have corporate apartments available in a variety of spacious floor plans. All of our furnished apartments will provide everything you need to feel at home in Houston! We take care of every detail for you so, when you walk through the door, all you need to do is unpack and enjoy.
Our spacious one-bedroom rentals include 1 king bed, a fully equipped kitchen with place settings for 4, a well-stocked bathroom, plus a living room, dining room, and balcony.
Each two-bedroom spaces have a master bedroom with 1 king bed and a second bedroom with 2 double beds. There is a fully equipped kitchen with place settings for 8, two well-stocked bathrooms, plus a dining room, living room, and balcony.
Our large three-bedroom rentals feature a master bedroom with 1 king bed plus two additional bedrooms that each have 1 queen bed. The fully equipped kitchen includes place settings for 12 and the three bathrooms are well stocked. There is also a living room, balcony, and dining room with a table for 6.
Luxury Amenities Are Standard
With each of our furnished apartments, our goal is for you to feel right at home. That's why we fully stock each apartment with all the amenities you might need during your stay in Houston:
Modern and beautiful furniture

Washer and dryer

Housewares (dishes, cookware, flatware, and glasses)

LED HDTVs, Blu-Ray DVD Players, and basic cable

High-speed internet

Microwave, dishwasher, and garbage disposal

Vacuum

Free Parking

Complimentary Parking Included
View our apartment amenities in full here - our "standard" is not your typical standard! With a full-sized kitchen, well-stocked bathroom, living room for relaxing, and high-speed internet for getting some work done, you'll experience all the comforts of home!
We love to take great care of you, and we can also accommodate special requests to customize your corporate apartment, such as baby cribs, sleeper sofas, and desks. With one of our furnished condos, you'll enjoy the luxury of not having to pack, unpack, or move heavy items.
Short-Term Apartment Options
Most companies that offer temporary housing don't offer the flexibility that business travelers or military families need. In fact, most companies often require 30- or 90-day contracts—but, with our company, you can reserve one of our corporate apartments in Houston with just a three-night minimum stay.
Not sure how long you'll be staying? That's okay with us! Should your short-term travel plans turn into an extended stay, we'll convert you to a monthly lease. Our flexible weekly rentals and monthly leases are automatically extended until you submit your 10-days' notice to vacate.
For the most flexible short-term rentals, look no further than Corporate Retreats International.
Month-to-Month Leasing
Not quite sure how long you'll be staying? Or, you don't want to make a long-term commitment? We're happy to offer month-to-month furnished apartments in Houston. Some short-term rentals and furnished apartments can trap you in contracts, making you feel like you're stuck! Corporate apartments shouldn't feel that way, which is why month-to-month leasing can be such a great option when you're in Houston for work.
At Corporate Retreats International, our job is to make your stay here as comfortable as possible, not to make you feel trapped in a long-term lease. If you're not sure how long you'll need an apartment, just let us know, and we'll discuss options for month-to-month leasing that can give you peace of mind while you're in the area.
Why Choose Furnished Corporate Apartments
If you're tired of staying in small but expensive hotel rooms or dingy extended stays, it's time to come home to a beautiful fully furnished corporate apartment. Our temporary apartments are designed to make you feel at home, no matter if you're staying for a few days or a few months.
Our apartment communities provide hotel amenities such as resort-style swimming pools, fitness facilities, and business centers—but we've got even more to offer! Other luxuries not found in hotels include:
Full-sized kitchens with fridge, ice maker, stove, coffee maker, toaster, and more

Washer and dryer in the unit

Large walk-in closets

Separate living rooms/bedrooms

Garden tubs

Address and mailbox
These amenities will make your time away from home or your relocation to Houston much more comfortable. Plus, our monthly furnished apartment rentals start at just $87/night for one-bedrooms. That's much less than the average hotel stay!
Corporate Retreats International has a carefully chosen inventory of furnished corporate apartments all across Houston. Give us a call, and we can help you choose the right apartment that's located in or near the areas above. 
If you don't have a specific location in mind, we can help you find a place near one of Houston's many great restaurants, parks, shopping centers, or attractions.
Contact Corporate Retreats International today to find short-term rentals that you're sure to love!
Houston Corporate Apartment Locations
Downtown Houston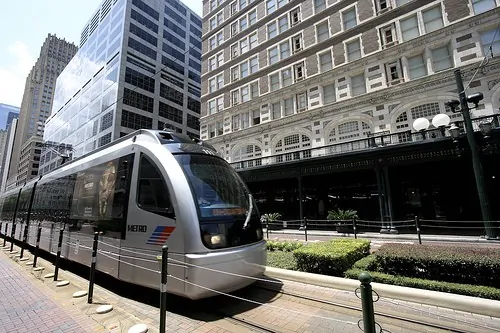 Greenway Plaza
Downtown Houston
Downtown Houston is the central hub of the business district. Did you know Houston is only second to New York City when it comes to the number of Fortune 500 companies located here?
Because of the exclusivity of the area, you'll find everything from prestigious museums and art galleries to endless options for entertainment when you step downtown. Its popularity also lends itself to modern high-rise apartment buildings and amenities you can only find in some of the major cities across the country.
Apartments in downtown Houston are typically a bit more costly than other areas because of the business environment of the city, itself. If you're here for work and you require the luxuries you're used to at home in order to effectively feel comfortable, looking downtown is one of your best options. You'll never run out of things to do and see and, with a short-term rental in the center of the city, you'll have your thumb on the pulse of the business district.
Texas Medical Center
The Texas Medical Center is the largest medical facility in the country, so it's not uncommon for college students and medical workers to find housing nearby. Because of the prestige of the medical facility, doctors and medical staff from all over the world make their way here for various projects and research.
The area is also home to not-for-profit patient care, which brings in an experienced medical staff and volunteers to work with patients who need it most.
The need is always great at the Texas Medical Center, so it can feel as though people are always coming and going. While there are great long-term apartments and housing in the area, that's not always the best solution for staff members or students who won't be staying long. Finding a short-term rental in the area can offer you the comfort of home without any long commitments during your stay.
This area is also home to great restaurants, entertainment, and shopping. You'll quickly feel at home no matter how long your stay might be.
Houston Museum District
The museum district is home to the area's best locations for art, technology, and science. As a result, it's also home to many corporate workers, researchers, students, and more. While the museum district is a huge tourist attraction for adults and children, it takes a lot of work to constantly move forward in terms of innovation. Museum research, art production, and so much more are constantly being done in this area.
Workers from all over the world come to Houston to be a part of the features in the museum district; whether it's an emerging artist or a scientific researcher, you'll always find an eclectic variety of people working and living here at any given time.
Both short and long-term rentals are available in the museum district for that reason. The local culture is not to be missed, and it is something everyone who stays here for any length of time should experience. The neighborhoods are unique and colorful—a direct reflection of the arts and science atmosphere that surrounds the district. Even if you're here to work, it's one of the most exciting places to stay in Houston.
Greenway Plaza
Greenway Plaza is not only an incredible business district for corporations of all industries, it's also the first of its kind in the Houston area. Greenway Plaza is uniquely both pedestrian-centered and business-centered, making it a central hub for all walks of life.
Stationed right between uptown and downtown, Greenway Plaza covers five million square feet. Within that space, you'll find beautiful architecture, multi-purpose office buildings, and indoor gathering spaces for a variety of meetings, events, and more.
The industries that call Greenway Plaza home run the gamut. You'll find everything from marketing to fitness within the area, bringing in people from all around the globe. Because it's such a hot spot and a unique working environment, Greenway Plaza doesn't disappoint when it comes to offering amazing restaurants and food options, as well as a nightlife scene you'll remember.
You'll find Greenway Plaza to offer the best of both worlds for someone who lives and works there, which makes it easy for the whole area to feel a little more like home.
Corporate Retreats International has a carefully chosen inventory of furnished corporate apartments all across Houston. Give us a call and we can help you choose the right apartment that's located in or near the areas above. 
If you don't have a specific location in mind, we can help you find a place near one of Houston's many great restaurants, parks, shopping centers, or attractions.
Contact Corporate Retreats today to find your perfect short-term apartment!
Payment information from Corporate Retreats
All basic furniture, housewares and utilities are included in the rental price and can be direct billed to the corporation or insurance company or charged to a credit card. We accept American Express, MasterCard, Visa and Discover. A reservation is guaranteed with a signed contract.